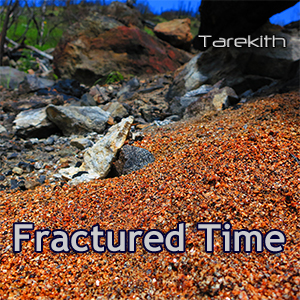 While there are 4 'songs' on this EP, it was written and intended to be played as a single piece of music.  It's only 14 minutes long, don't worry.  The start times of the different songs that make up this EP are:
00:00 – The Way In
04:00 – Involved
07:52 – The Endless Muse
10:38 – No Further
Here is the link to the complete album, as a single continuous 320kbps AAC:
http://tarekith.com/mp3s/Tarekith-FracturedTime.m4a 
Higher resolution and lossless versions, as well as the individual tracks, are available from Bandcamp:
If you purchase the album, email a copy of your order to me and I'll send you the Ableton Live 9 Project of the entire album for you to explore and mangle as you will.  Normal Creative Commons Licensing applies, see the bottom of this page for details before you release anything: http://tarekith.com/tracks/
Project requires Live 9 to open, sorry to those with earlier versions!   220MB.
For the producers (and the curious) out there, you can read the full story of how this EP came to be further below:
The Story
This has been one of those projects that you love and hate at the same time.  It took me way longer than I expected, and by the end I was a millions miles away from where I thought I would be.  The early stages of this EP actually began with me wanting to create a new hard techno live set using just the Elektron Machinedrum.  It had been awhile since I had used just the Machinedrum for a live set, and I was feeling drawn to the simplicity of just working with one piece of gear for awhile.
Why a hard techno live set instead of my usual downtempo?  No idea, other than I had been going to a few festivals last summer, and that was the music I kept getting drawn to.
For the new live set I wanted to use the UW aspect of the Machinedrum as much as possible, so most of the sounds I prepared for it came from this techno DJ set I had been listening to for a few weeks in my car.  I didn't so much sample individual sounds and specific noises as I did just short little micro bursts of sound to mess with later.  I was looking for textures and sounds with lots of harmonics I could filter later on.  With all 48 memory slots on the MD-UW filled, I was only using 700kb of memory, so tiny samples indeed.
Over the next few weeks I basically wrote 16 'songs' on the Machinedrum, with the intention that this would be a live set I performed on the fly.  Working with so much focus on one piece of gear for so long is a very intense experience, and after a month or so I needed a break away from all things Elektron 🙂  So I packed up the Machinedrum and focused on DJing for awhile.
In a few weeks when I felt I was ready to dive back into the techno set, I sat down to give everything a listen with fresh ears.  Of course more than half of what I had written sounded like garbage now, so I began the process of trying to save as many of the songs as I could.  After a few days, I could tell that trying to do the whole set with only the Machinedrum was just not giving me the range of sounds I was looking for.  Not so much a fault of the MD, as it was due to me having a pool of very specific (and honestly too similar) samples for my core sounds.
Having spent weeks of very long days writing material, and now realizing only about half of it was worth saving, I once again decided to take a break and work on other projects while I thought about how to save all those hours of work.  When things just aren't working for me, I'm notorious for deleting everything and starting over.  But in this case I really liked the material that WAS good, so I didn't want to go that far yet.
Around this time, I ran into the plug-in "MIDI Guitar" from Jam Origin and things started to change.  The plug-in is basically a real-time audio to midi converter for guitar, which you can use standalone or in your DAW.  I was really enjoying using my guitar to play something like Omnisphere, so I thought it might be cool to create new loops to go over the Machinedrum material. I could use the Octatrack to play them back, so I'd still be using all hardware to perform the set.  It might not be a strictly techno set on just the Machinedrum anymore, but at least I was still using all this material I had written.  Good enough for me!
First I went back to the MD songs and deleted all but the 8 that I liked the best.  It was tough, but it just wasn't worth the time or the effort at this point to try and save the others.  I'd tried that once and they still weren't doing it for me, so away they went, problem solved.
Syncing the MD to Ableton Live is easy enough, so I was able to record 5-6 new loops for each of the remaining Machinedrum songs.  As I mentioned, I did all of this using my guitar to play Omnisphere, so all of the non-drum sounds were recorded that way.  Probably the most fun making music I've had in years, this MIDI Guitar software has changed the way I write music for the better I think.
I dove in and in just a few days managed to record all of the new audio material I needed for the Octatrack, roughly 48 new 4-bar audio loops.  I loaded these into the OT and did a rough mix with the Machinedrum sounds.  I also reordered all of the songs so that they flowed from start to finish better.  By this time, I was once again getting a little burned out on hearing the same sounds so much, so I took yet another multi-week break from the Elektrons to give my brain a break.  On bigger projects like this, I find it critical to take time away now and then to make sure I can come back to it now and then with a fresh perspective.  It keeps me from wasting weeks of time taking things too far, and helps me really edit out all the material that's just not working in the larger context.
By this point I should have been expecting it, but once I listened to the material again a few weeks later I was left still feeling like some of it was just not that strong.  Once again I was forced to make the tough (but necessary) decision to get rid of the stuff that wasn't working so I could focus on what was sounding like it had potential.  In this case, that meant deciding to go from an 8 song mini live set, to a 4 song studio EP.  Oh well, these things happen.
I spent a couple of weeks tweaking and remixing my new loops in the Octatrack, and then recorded everything back into Ableton Live to arrange.  My plan was to create the songs as 4 parts of one larger piece of music, which meant doing all 4 songs in the same project.  The Live 9 beta was just getting going, so I figured I would use this as a chance to put the new version through it's paces.  Don't try this at home.
It took me about 2-3 more weeks to arrange all the songs for the album, and finish all the fills and edits.  I had planned to add more parts with MIDI Guitar, but once I did my last pass of edits and fills, I realized it was fine the way it was.  I took another week to fine-tune the arrangement, and then did some last minute tweaking to the mixdown of all the songs.  I used only the built in effects from Live 9 for the mix, and they did the job perfectly, no complaints.
So there you have it, from an hour long techno live set to a 4 track E.P.