This is a sort of proof of concept for a new type of live pa I've been working on for the last 8 days.  Not so much a demo as it's only 20 minutes long, more an experiment for me to see if this was a valid way to play live.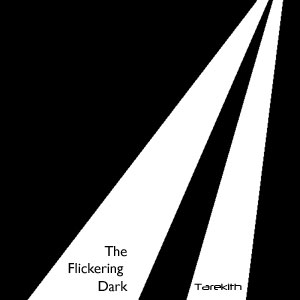 http://tarekith.com/mp3s/Tarekith-The_Flickering_Dark.mp3
There are some benefits to being left home alone (plus a dog) for 16 days, while the wife goes on vacation with her sister.  Knowing I'd have this time to myself to work any schedule, and do whatever I wanted in the meantime, I planned on writing a LOT of music.  I prepped material for a new Machinedrum live set, I bought some new apps for the iPad, I even prepped some song writing templates in Live just in case I got an idea.  In short, I got all the BS out of the way before she even left 🙂
Of course, things never go according to plan, and literally on the day she left I got this left field idea to try and get a working live pa set up with Stylus RMX and Omnisphere in Ableton Live.  I've tried it a few times before, but always ran into hurdles that kept me from getting it set up in a fluid, performable way.
The key this time, was that I realized I could use Live's Looper devices, much like I do with the Elektron RAM machines in my Machinedrum live sets.  So I have one instance of RMX and one Omnisphere (Omni) in the set, and I use them both in Multi mode.  This way I could use a Multi in each device for each of my "songs" in the set.  With a Looper on each of those tracks, I can capture the audio from them, and have it start looping immediately while I switch to a new Multi on the plug ins.  Switching the Multi in Stylus was only time I needed to use the trackpad in fact.
The only tricky bit was figuring out how to fade from the audio looping in Looper on each track, to the new material I had just loaded.  I ended up using an audio effect rack, with one chain for the Looper, and one for the dry audio.  Using a track fader on the APC, I could crossfade from looped material and new stuff for the next song by mapping a fader to the chain selector.
I used 3 tracks of drums from Stylus, and 4 tracks of synths in Omnisphere.  The APC40 would handle clip launching, and tweaking all the Stylus and Looper parameters.  (Stylus and Omni both have excellent MIDI mapping utilities btw.)
Here's a couple views of the Live Set:
I used OmniTR on the iPad2 to control everything in Omnisphere, from switching sounds, to tweaking everything live, to selecting the Multi for each song.  Strangely I'd get an audible glitch when switching Multi's with TR, a super short audible pop.  Even more strangely, this did not get recorded in the audio I saved to post online.  ????
Anyway, pretty happy with it overall, even if it does sound a little confusing on paper.  I'll start working on some more material for the set over the next month or so.  Fun stuff, enjoy!