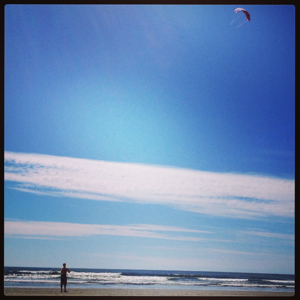 Wind Swept <- Right Click to Download
A lot of my recent work has been shorter songs with weird sounds, abrupt changes in the song structure, and a bit more "out there" overall.  So for this one I wanted to create a more flowing, almost trance-like song that drifted along a bit more serenely.
The basis for this song was an acoustic guitar jam I had one night using the looper built into the Flashback X4 pedal.  I liked how it turned out, and luckily I had recorded it at the time too.   I used Auria on the iPad Air again as my main DAW, along with the included Fabfilter EQ and Compressor for mixing duties, and Pro-L for the mastering.
The drums were from DrumJam and DM1, and Alchemy handled the couple of synth tracks.  Everything else was my Taylor 814ce heavily processed with my new pedals, the Xotic EP Booster, Boss Multi-Overtone, Boss Tera Echo, the aforementioned Flashback, and the TC Hall Of Fame.
It flows and builds slowly to a discordant peak, then tapers off to nothingness.  Enjoy!